Thank you for subscribing
Thank you for subscribing to our e-news - we'll keep you updated with our latest campaigns, activities and events.
If you'd like to find out how to support our work financially or by volunteering, click
here...
How do you know if what you buy is really organic? Click
here...
We also have lots of information about where to buy organic and local, find out more
here...
Thank you again for subscribing, if you ever have any queries you can contact us by clicking on the 'Contact us' link below.
Manjo Smith
Chairperson
Namibian Organic Association
Contact us
Look for these marks for food you can trust.


11.10.2014
NOA attends AU training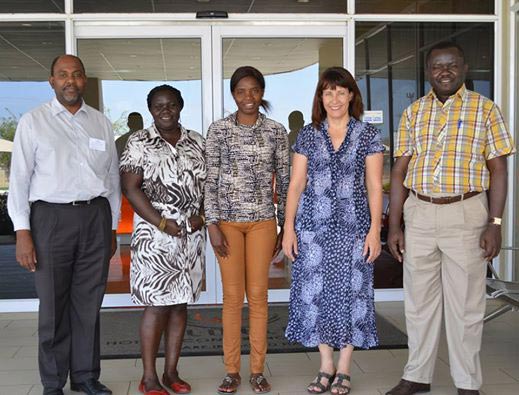 Organic training for the future of Namibian agriculture. A Namibian Organic Association (NOA) recently attended an AU course on organic agriculture. Pictured FLTR are John Mufikidza (NOA), Diana Akullo (AUC), Martha Nataneal (NOA), Manjo Smith (NOA), Jonathan Ocran (AUC).
The Namibian Organic Association (NOA) recently attended the Regional Training Workshop on Marketing and Extension support to organic farmers and practitioners. The workshop, organised by the African Union, was held in Gaborone, Botswana.
Talking about the value of the course, NOA Chairperson Manjo Smith said there is high demand in Namibia for organic agricultural produce as people prefer food that is healthy, nutritious and free from harmful pesticides or Genetically Modified Organisms (GMOs). She said however that demand exceeds supply, so there is a need to strengthen organic capacity in the agricultural sector. She said that training opportunities are invaluable in this regard.
In addition to providing training on organic farming operations, the workshop covered natural management techniques for pests, marketing of produce and compliance with organic standards.
Said AU Department of Rural Economy and Agriculture Policy Officer, Jonathan Nyarko Ocran, development of organic agriculture is a component of the 2014 AU Year of Agriculture and Food Security. Ocran said the programme also marks the 10th anniversary of the Comprehensive Africa Agriculture Development Programme (CAADP).
CAADP, a flagship programme of the African Union encourages AU members to allocate at least 10 percent of their total public expenditures to agriculture. Currently, 50 of the 54 AU countries use the CAADP framework to develop their agriculture.
Ocran said that organic and near-organic agricultural methods and technologies are ideally suited for many poor and marginalized smallholder farmers, as they require minimal or no external inputs and also use locally and use naturally available materials to produce high-quality products.
He said research by the United Nations Environment Programme (UNEP) shows that organic agriculture outperforms traditional and chemical-intensive methods of farming. He also said organic agriculture provides more public good than any other type of farming.
John Mafukidze, Director and co-founder of Hope Initiatives Southern Africa – Namibia, said the training was a full package with well presented information, that addressed some of the best practices in organic agriculture, and innovative, easy methods of managing pests.
Martha Natanael who was also among the Namibian delegation added that she left with the ability to start her own organic farm, and that she also learned a lot from Zimbabwean and Zambian participants involved in organic agriculture.
Currently, 2,400.00 hectares are certified organic in Namibia through 3rd party certification and 23,079 hectares through the Namibian Organic Association's Participatory Guarantee System (PGS).