Thank you for subscribing
Thank you for subscribing to our e-news - we'll keep you updated with our latest campaigns, activities and events.
If you'd like to find out how to support our work financially or by volunteering, click
here...
How do you know if what you buy is really organic? Click
here...
We also have lots of information about where to buy organic and local, find out more
here...
Thank you again for subscribing, if you ever have any queries you can contact us by clicking on the 'Contact us' link below.
Manjo Smith
Chairperson
Namibian Organic Association
Contact us
Look for these marks for food you can trust.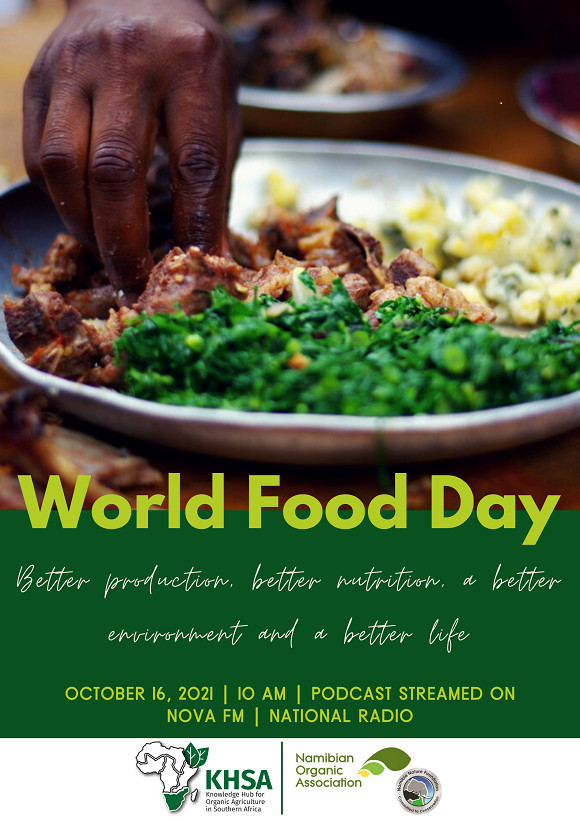 World Food Day (WFD) is celebrated every year all over the world with a view to paying tribute to the founding date of the Food and Agriculture Organization (FAO) of the United Nations in 1945.
In honor of WFD, the Knowledge Hub for Organic Agriculture in Southern Africa @KHSA and the Namibia Nature Foundation @NNF, together with the Namibian Organic Association @NOA, will be releasing a panel discussion on how organic agriculture can improve nutrition security in Namibia on 16 October 2021. See poster for details and tune in!
In addition, we hereby invite you to take part in the WFD competition:
Take a video or a photo of yourself in your garden or your most nutritious meal and post on Facebook and Instagram, don't forget to tag us.
Two lucky winners with the most liked post will walk away with a hamper. Competition runs from 21 September - 15 October 2021.
https://www.instagram.com/p/CUDMqgpNI7-/

https://www.facebook.com/namibiaorganic/videos/599114521108114

Winners to be announced on WFD, 16 October 2021.