Thank you for subscribing
Thank you for subscribing to our e-news - we'll keep you updated with our latest campaigns, activities and events.
If you'd like to find out how to support our work financially or by volunteering, click
here...
How do you know if what you buy is really organic? Click
here...
We also have lots of information about where to buy organic and local, find out more
here...
Thank you again for subscribing, if you ever have any queries you can contact us by clicking on the 'Contact us' link below.
Manjo Smith
Chairperson
Namibian Organic Association
Contact us
Look for these marks for food you can trust.


2021

IFOAM – Organics International with the Sustainability Institute did a 5 days Training of Teams of Trainers, the ToToT.
A group of about 17 people from across Namibia participated in the 5-day Training of Teams of Trainers (ToToT) that was held from 11-15 January 2021, Rundu, Namibia. These trainings were conducted as part of the Knowledge Centre for Organic Agriculture in Africa (KCOA) in partnership with the Namibian Organic Association (NOA). The ToToT aims to address Capacity Development Processes for Ecological Organic Agriculture in Africa at Continental and National Level.

"Knowledge on organic farming principles is still very limited in Namibia. This training was a great opportunity to facilitate the participants with technical knowledge as well as the training skills to act as multipliers of this content. The networking between the participants, who came from very different regions of this vast country was highly appreciated by all." Mareike Aufderheide-Voigts
NOA Board Member and Namibian Project Manager of Knowledge Hub for Organic Agriculture in Southern Africa




2015
NOA members attend Organic Urban Agri Workshop

Twelve NOA members recently attended a 4-day Organic Urban Agriculture Training Workshop in Cape Town. The training was offered by Abalimi Bezekhaya, an NGO working to empower the disadvantaged through urban agriculture projects in the informal settlements around Cape Town.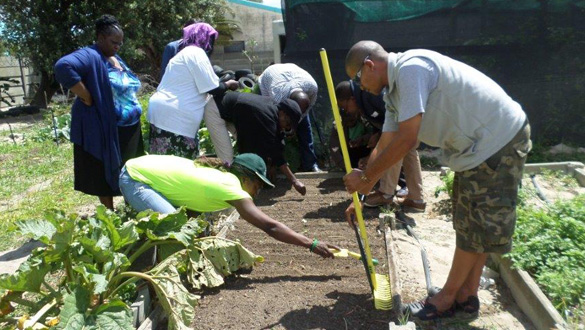 Above: NOA members receive training in urban agriculture.

Urban food security in Namibia is a challenge, and it is important to develop the skills and capacity of urban dwellers since more and more people are moving to cities. NOA is receiving increased requests for knowledge sharing and capacity building on the topic of organic agricultural production.

NOA is very grateful for the sponsorship by Tony Pupkewitz which made this capacity building exercise possible.

"In order to increase food security in the informal settlements, people can learn to produce some of their own food in the city," says Manjo Smith, NOA Chairperson. "Many people have access to a little bit of land, and with innovative water usage methods, it is possible to produce some vegetables."

"We realised that we need to put a competent team together that can ultimately offer local training and support to urban agricultural projects, small scale farming projects as well as large scale commercial organic farming projects. This is our first step in this direction, and we are very excited with all the knowledge and practical experienced that we have gained," says Manjo Smith.

The training course was very extensive, and training topics included planning of an urban garden, production of seedlings, soil fertility management, crop rotation, companion planting, plant nutrition, building compost heaps, applying mulching, preparing liquid manures, pest and disease control.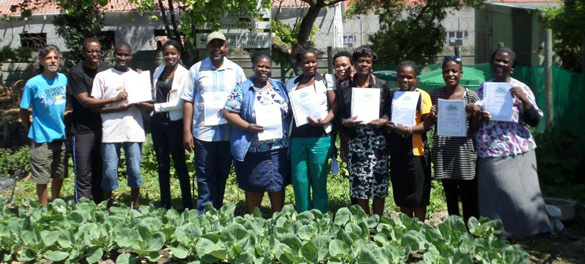 Above: the NOA members received certificates after their training.

"Abalimi Bezekhaya offered us a perfect opportunity of theoretical training, practical training as well as site visits and engagement with the urban agricultural community projects on the Cape Flats," says John Mafukidze and Patricia Sola-Mafukidze, founders of the Hope Initiatives Namibia (HISA).

HISA is a community based project in Katutura which focuses on supporting the community that are generally food insecure to grow home gardens. They also work with local Primary School teachers and Kindergartens teachers.

As a member of NOA, HISA endeavours to educate the community it serves to care for vulnerable children and offer training that will benefit the community by showing a functional model of a Community Organic Horticultural project that brings food security to individual households, incomes for breadwinners who if they have any debilitating disease can still get participation of family members in urban and peri-urban informal settlements.

The Abalimi project is a good model that taught us how sustainability for community based organisation such as HISA, can help the people to improve their lives. It's a Win – Win situation, and the project has the potential to reduce household poverty, create jobs for informal dwellers, improve the situation of household food insecurity, enrich peri -urban informal settlements with food supply and consumption of organically grown vegetables to sell and make a living. For a community based organisation such as HISA, this was our AHA! Moment at Abalimi centre and many other places we visited such as the Skye Organic Farm, Khayelitsha Garden Centre, Moya We Khaya Garden and Bambanani garden.

"The lessons learnt from the experiences of Abalimi on how to turn social gardens into Market Gardens that will ensure sustainability was an eye opener for our Organic Project in Namibia. We plan to adopt this practical model and contextualise it for the community, primary schools and kindergartens within the Namibian environment in the near future. HISA will strengthen its training programme with local primary schools and include the systemic teaching of Basic Organic Horticulture for the urban market as well as pioneer the production of seedlings for Organic market and own consumption," says John Mafukidze.

Martha Nataniel's highlight on the course was to see the high production in the city vegetable gardens, and how the community sell the produce and earn an income. "The community members involved in the respective gardens are responsible for their own piece of land, which includes the soil preparation, planting, weeding, harvesting and selling. A percentage of each member's profit is then put into the "pot" to cover the cost of irrigation. This helps them improve their own conditions".

Urban agricultural is a global and growing pursuit that can contribute to job creation, economic development, food security, community building and the social inclusion of the urban poor and women. Furthermore, it helps with the greening of the city and the productive re-use of city wastes.

"In a country with very limited resources, it is important to explore the various opportunities of turning waste into resources, which can ultimately be used to produce food for ourselves – so the entire city can become a farm", concludes Manjo Smith.